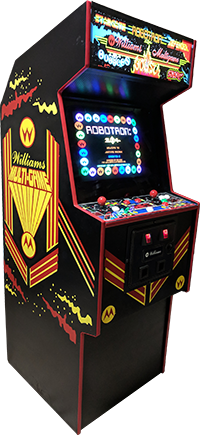 On Christmas eve, as we were driving to visit family, I was browsing Craigslist and stumbled upon an almost comical posting:
Free arcade machine, must go today, need to put up Christmas tree
I didn't realize people put up their Christmas tree the day before Christmas, but who was I to complain? It's hard to beat a free arcade machine. We immediately made a detour to pick up a dolly at the closest hardware store, then headed over to the address to pick up the cabinet.
The cabinet was a Shinobi in rough shape: quite worn, and with kids' stickers all over it. Although nothing would appear on the screen, the machine did power up and play attract mode sound effects, which indicated that the PCB was working. I wasn't surprised the CRT didn't work; there was a severe, hard-to-miss burn mark in the center of the tube.
The cabinet sat in my garage for a year or two, partly because I was finishing up other projects, and partly because I wasn't sure what the cabinet had been originally. But one day, while reading Where did all the Defenders go? over on The Arcade Blogger, I was stunned to find a picture of a Defender-to-Shinobi cabinet that looked almost identical to mine.
Having never played Defender, I wasn't sure that I wanted a dedicated Defender cabinet. However, Robotron 2048, my favorite game, is also made by Williams. A bit of searching indicated that Williams made a multi-game cabinet. That seemed like a worthy fit to me, so I got to work!
Cabinet Prep
First things first: the cabinet needed to be stripped of parts and sanded down. The leg levelers had been removed, resulting in a fair bit of damage around the bottom edges. I cut back the loose pieces and filled it all in with wood filler. After another round of sanding, it was ready for primer and paint.
On previous cabinets, I've used vinyl graphics. But for this cabinet, I wanted to try something different: stencils! The first step was a base coat of paint. I used Rust-Oleum Satin black flat, which in retrospect was a mistake: the flat paint scuffs way too easily. I would recommend a gloss or at least a semi-gloss paint for the base coat. I worked this out in the end by applying a clear coat of Krylon Satin Crystal Clear over the finished stencils, after one final wipe down with tack cloth.
Stencils
I got my amazing Multi-Williams stencils from This Old Game. The stencil set for my cabinet has two colors: red and yellow. There were two stencil sets for each side and the front coin door, a total of six altogether.
I had never used stencils prior to this, but the process was very simple. The stencils were shipped in a cardboard tube, so the first step was to lay them out flat and give them time to uncurl. My wife helped me position the first stencils on each side of the cabinet using painters tape. After they were positioned, we peeled back the inner backing layer and used a squeegee to apply the stencil to the cabinet. Once applied, the entire cabinet was masked off with painters plastic and painted with Krylon Gloss Sunburst Yellow spray paint.
Once dry, we slowly peeled back and removed the first stencil layer. Then we applied the second layer over top of the first for the second color. Another round of masking had to occur before we were ready for the second color, Krylon Gloss Banner Red.
The coin door also received a coat of Rust-Oleum Hammered Black, which helps cover its minor dents and scrapes.
Though it was my first time working with stencils, I was very happy with the outcome. It isn't perfect; if you look closely, you can see spots where the paint ran or edges that aren't perfectly straight. However, this lends the cabinet a certain air of authenticity; during the arcade heyday, when these cabinets were churned out of the factories at a blistering pace, many were painted with stencil sets instead of printed graphics. You'll see the same imperfections on authentic cabinets as well.
If you are considering stencils, I'd highly recommend it. The paint colors pop in a way they do not on printed vinyl graphics. This Old Game makes a great set of stencils that apply and remove very easily.
Control Panel
To prepare the control panel, I first needed to remove the existing hardware and overlay. It's surprising how well the adhesive holds up after all this time; a simple pull won't budge it. But with a little heat from a hairdryer, it peels off quickly. Underneath, you can see the original holes for the Defender layout.
The Multi-Williams layout I chose is very similar to the Defender layout; I only needed to add three new holes. I used a drill press to do this. I also used a little wood filler to fill in a pitted area on the top right of the board.
The overlay art I used was about an eighth of an inch shorter than the original, leaving some exposed wood. A quick spray of black Rust-Oleum covered it right up.
The overlay and plexiglass are from This Old Game.
To reduce noise, I went with leaf switches on the buttons and joysticks instead of microswitches. The joysticks are the Wico 8-Way from Arcadeshop and the buttons are the CLASSIX in the True-Leaf Pro configuration from GroovyGameGear.
I wired everything up and tested the inputs on the workbench before re-installing the control panel.
Marquee and T-Molding
Lately, I've been using LEDs instead of fluorescent lights for my cabinet marquees. Unfortunately, the NovaMatrix 2 is no longer in production, so I went with a generic roll of 12v LEDs.
The marquee is from Escape Pod and the T-Molding is from Arcadeshop.
Monitor
I was lucky enough to find a seller on Ebay with a lot of several brand new in box (old stock) 21" CGA CRTs. Though they weren't an exact fit for Defender's 19" screen, I couldn't pass up brand new, never used CRTs. It's not often you get to peel the protective plastic from a CRT and fire it up for the first time, especially since CRTs have been out of production since the early '00s.
Specifically, the monitor is a WEI-YA M2621H. Powering it on for the first time was a treat. The colors are amazing. I can't wait to install CRTs in a couple of my existing cabinets that currently have LCDs.
One issue arose from the use of a 21" screen instead of a 19": all the available existing bezels have artwork created for the 19" screen, and thus wouldn't work. Instead, I went with plain smoked plexiglass, which actually looks good considering how busy the artwork on the marquee and control panel is.
Finally, I made a custom bezel using presentation board from Michaels.
Game Board
I wanted to avoid software emulation for this cabinet. Running PC hardware with a full operating system and MAME sometimes seems like overkill. In this case, I was able to use an FPGA PCB that runs the original ROMs without any software emulation. The wSYSFPGA by JROK is absolutely amazing. Instant boot-up, just like the arcade hardware. An FPGA board is as close to the original hardware you can get without buying an original PCB.
I used a Super JAMMA wiring harness and the HAPP Pro power supply from Arcadeshop.
End Result
I am extremely pleased with this build. This project included several firsts for me: stencils instead of vinyl artwork, a brand-new CRT instead of an LCD, and an FPGA instead of software emulation.
I suspect I will soon be retrofitting my existing cabinets to have CRTs and FPGAs as well!